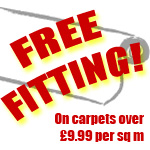 Carpets 2 Go
381 London Road
Hilsea
Portsmouth
P02 9HL
Carpets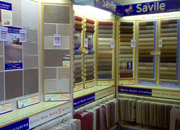 Carpets 2 Go want to ensure that their customers get the right carpet for their needs at a price they can afford. There are various types of carpets to choose from, all with different characteristics. It is our job to see what your requirements are and what will best suit you and your needs. A brief run down of different types of carpets can be found below:
Polypropelene
Polypropelen is a man made Carpet fibre. It can feel surprisingly similar to wool and comes in various styles, from hardwearing loops, stylish twists & sumptuous saxonies. All are inherently stain resistant and durable. All this, with prices start from as little as £5.99 per sq m.
80% Wool, 20% Nylon
Mostly used in mid to high range quality carpets, it gives the best of both worlds - the softness of the wool mised with the durability of nylon. Wool rich twists are available in plains, mottled, and naturally stain resistant. Pile weights ranging from 30, 40, 50 & 60 ounze per square metre.
Wool carpets are the natural choice, and with prices starting from £15.99 per sq m they won't break the bank either.
100% Wool
From modern loops pile to complement any designer look, to chunky Saxony's & twists in cutting edge colours wool is the all-round choice.
Underlay
Underlay is so often overlooked but is extremely important to a new carpet & should be replaced when fitting a new carpet. Modern P.U Underlays give a fantastic feeling of luxury underfoot & are guaranteed for the life of the carpet & unlike rubber underlay will not crumble.
Underlay is the perfect companion for any new carpet, and it won't break the bank either - unlike national companies, our range of underlay starts from just £3.99 per sq m.